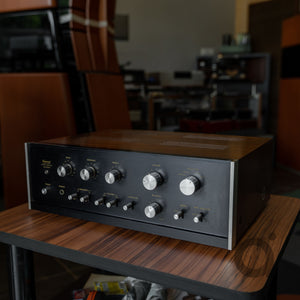 Experience the vintage sound of the Sansui AU-555A integrated amplifier. This classic piece of audio equipment boasts a sleek design and exceptional performance that is sure to impress any audiophile.
Crafted with the same attention to detail and engineering as Sansui's larger AU amplifiers, the AU-555A delivers a powerful sound output of 35 watts per channel (RMS) at 8 ohms. With a frequency response range of 20 Hz to 30 kHz, this amplifier provides an accurate and detailed sound that brings your music to life.
The AU-555A features a phono input for turntables, as well as inputs for other audio sources such as tape decks, CD players, and AM/FM tuners. The amplifier also includes bass and treble tone controls, as well as a loudness switch for enhanced bass response at lower volumes.
This particular unit is used and highly collectible, adding to its vintage charm and character. It is an upgraded version of the AU-555, featuring refined dull black panels and the exclusive triple tone controls.
Overall, the Sansui AU-555A is a must-have for any audio enthusiast or collector looking to add a piece of audio history to their collection. Experience the exceptional sound and design of this classic amplifier today.

Audio Image is a physical audio store based in SS2 Petaling Jaya.
Location: https://goo.gl/maps/8ZedWopmHukbcm8e6

WHATSAPP JOSEPH WONG AT 0102001992 FOR MORE INFO.
Browse other products at:
https://www.audioimagehifi.com/collections/pre-owned