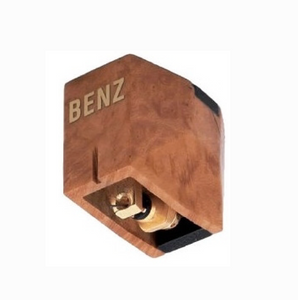 Item has been discontinued and is no longer in stock.
Call Joseph at 0102001992 for recommendations.

The Micro Benz Wood SL is crafted, assembled and tested meticulously, under the close supervision of Benz Micro's owner, Albert Lukaschek.

It's no wonder, especially when the latest variant is adorned with a Micro Ridge stylus profile fitted to a boron 0.28 cantilever. It's also enhanced with new helical coils and uses "Pure Iron Cross" copper conductors. The new S-Series also has improved generators using new coil windings and refined pole pieces/damper designers and improved stylus and cantilever.

A special O-ring seal holds the assembly together and serves as a damper, enabling it to reproduce subtleties while taking away colouration of sound. This gives it a warm and very precise sound! It also comes with the subtle, refined and nuanced signatures that Benz Micro is known all around the world for.

Try out the Benz Micro for an incredible value for money performance that's perfect for even the most demanding audiophiles.
Specifications
Type: Low output MC
Body: Heather
Output: 0.26mV
Cantilever: Solid boron, 0.28 mm
Stylus type: Nude Line contact, 3×60 Um
VTA: 20 degrees
Coils: Pure Iron Cross
Compliance: 15cU
Internal impedance: 3.5 ohms
Frequency response: 20-20 kHz
Channel balance: > 0.5db
Channel separation: > 35db à 1kHz
Tracking force: 1.7-2.2 grams
Recommended tracking force: 1.75 g
Weight: 9 grams
Recommended load: > at 100 ohms