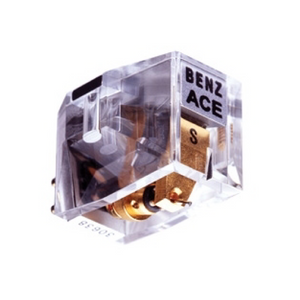 Item has been discontinued and is no longer in stock.
Call Joseph at 0102001992 for recommendations.

The Benz Micro Ace SM is a crowd favourite from the labs of Benz Micro in Switzerland. It's also one of the only, if not the only, handmade cartridges built at this price.

The cartridge also incorporates the Benz Dynascan with the Gyger S stylus coupled to improved generators using new coil windings and more refined pole pieces and damper designs. It takes the design breakthroughs from flagship models and uses these technologies in a no-compromise package. 

The resulting design is a superb cartridge built for music lovers that has a warm and natural sound through the mid-range with powerful bottom-end extension and smooth high frequencies. But it is also very user friendly and adjustable, giving you the ability to tune the cartridge to get the sound you're looking for.

ACE SM
Cantilever: Solid Boron Rod: 0.28 mm diameter
Stylus: Nude line - contact diamond, mirror polished 
Stylus tip radius: 3x 60um,
Vertical tracking angle (VTA): 20 degrees
Coil: Pure iron cross
Weight: 8. Grams 

Electrical

Output voltage: 0.8mV at 3.54 cm/s
Internal impedance: 24 ohms
Frequency response: 20 - 20000Hz +- dB
Channel balance: Better than 0.5  dB
Channel separation: Better than 35 dB at 1kHz

Dynamic
Dynamic Tracking ability at 315 Hz at a tracking force of 2 grams: 80Um
Dynamic compliance: 15 um/mN